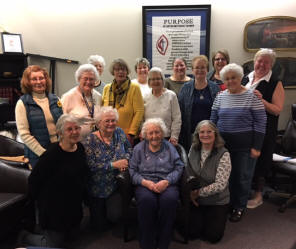 The organized unit of United Methodist Women shall be a community of women whose PURPOSE is to know God and to experience freedom as whole persons through Jesus Christ; to develop a creative, supportive fellowship, and to expand concepts of mission through participation in the global ministries of the church.

The United Methodist Women would like to invite all women to their general meeting on March 8th, 2017 at 7:00 pm in the church parlor. The program will be lead by Ruth Hodges.




Rachel Circle will meet January 25th at 6:30 pm in the church parlor.
Rebecca/Ruth Circle will meet January 26th at 10:00 am.
There will be a Climate Justice Study on January 25th and February 1st at 7:00 pm in the church parlor. This study is open to anyone interested in learning more about climate justice. This study focuses on climate change through the lens of justice. It is based on the belief that climate change is real and that all of God's creation is suffering. And it is based on the fact that those who have benefited the least from the current economic system are those who are suffering the most from the ways it continues to change our common climate. This study will be lead by Virginia Morgan.
For more information or answers to your questions the church office, 776-2212.