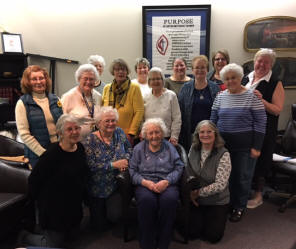 The organized unit of United Methodist Women shall be a community of women whose PURPOSE is to know God and to experience freedom as whole persons through Jesus Christ; to develop a creative, supportive fellowship, and to expand concepts of mission through participation in the global ministries of the church.

The United Methodist Women would like to invite all women to their general meeting on March 8th, 2017 at 7:00 pm in the church parlor. The program will be lead by Ruth Hodges.
Craft Day will be on March 11th from 9:00 am to Noon in the church parlor.

Rachel Circle will meet March 22 at 6:30 pm in the church parlor.
Rebecca/Ruth Circle will meet March 23 at 10:00 am with Evelyn Diehl providing the program and devotions.
For more information or answers to your questions the church office, 776-2212.